Source: Knox Blogs-Atomic City Underground | Frank Munger | November 20, 2015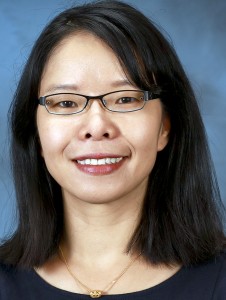 Miaofang Chi of Oak Ridge National Laboratory's Center for Nanophase Materials Sciences was honored tonight as Scientist of the Year at the lab's annual awards banquet.
ORNL Director Thom Mason presented Chi with the Director's Award for Outstanding Individual Accomplishment in Science and Technology.
According to information provided by the lab, Chi was honored for her "pioneering early career research in analytical electron microscopy." The lab said her research has advanced the understanding of "defect and interface chemistry and structure" and how defects control the properties of materials at the atomic level.
"Her work includes the recent development of transformative in-situ microscopy methods to probe transport phenomena at the atomic scale," the lab stated.
Chi also received the Early Career Researcher Award at the banquet.
In other top awards, Buddy Bland, director of the Oak Ridge Leadership Computing Facility, received the Director's Award for Outstanding Individual Accomplishment in Mission Support. He was honored for his "sustained, outstanding leadership" and his support of high performance computing initiatives.
Bland also received the Mission Support Leadership, Division Award.
The Director's Award for Outstanding Team Accomplishment was presented to Chris Patton, Judith Henry, Mike McIntosh, Ann Weaver, Glenn Buckley and Mike Mitchell. The team was recognized for their work in developing and deploying the Battelle Laboratory Operations Supervisor Academy.