Source: ORNL | News | October 6, 2020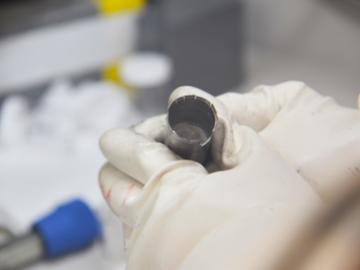 Irradiation may slow corrosion of alloys in molten salt, a team of Oak Ridge National Laboratory scientists has found in preliminary tests. The researchers put samples of stainless steel and a nickel-based alloy in capsules in the Ohio State University Research Reactor and exposed them to a molten chloride salt with simultaneous neutron irradiation. In their experiment, steel that was irradiated in molten salt 
showed less corrosion
 than samples that went through the same environmental treatment but without irradiation.
Scientists at Oak Ridge National Laboratory and the University of Tennessee designed and demonstrated a method to make carbon-based materials that can be used as electrodes compatible with a specific semiconductor circuitry.
3D printing electrodes on CMOS circuitry from a polymer precursor requires high, yet regulated, temperatures – typically around 900 degrees Celsius – to carbonize the electrode structure. The challenge is to avoid damaging the CMOS chip.
Oak Ridge National Laboratory scientists helped count the population of Nigeria – all without leaving the lab. Medical teams with the Bill and Melinda Gates Foundation needed help finding patients while vaccinating for polio in Nigeria, a nation of roughly 190 million people. The last national census, conducted in 2006, did little good a decade later. Researchers at ORNL and the University of Southampton estimated population counts for every village and neighborhood in Nigeria
using satellite imagery and a national sample survey, called a microcensus.