Source: Knoxville News Sentinel, Atomic City Underground | Frank Munger | October 9, 2015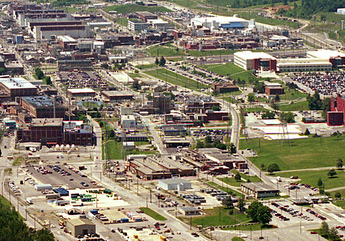 The National Nuclear Security Administration has approved development of a new uranium-purification capability at the Y-12 nuclear weapons plant, and the estimated cost range for the project is between $58.6 million and $76.7 million. The information was revealed in a newly released memorandum by staff of the Defense Nuclear Facilities Safety Board assigned to Y-12.
The Electrorefining Project at Y-12's Building 9215 will replace an "analogous capability" that's currently housed in the 70-year-old 9212 complex that the government and its contractors are trying to vacate as soon as possible. The electrorefining technology will be used to purify uranium metal, an essential part of the enriched uranium activities at the Oak Ridge plant. The report indicated that the electrorefining operation may not come online until the summer of 2021.
The safety board has previously stated that the Electrorefining Project is a "key milestone" in the NNSA's plans to get out of 9212 by the year 2025.
Another project, known as the Calciner (which will cost up to $46.4 million), will be used to replace some of the aged uranium-recycling activities in 9212 and help reduce the uranium load in the production complex in future years. Calciner also is part of the exit strategy for 9212.
According to the DNFSB staff's "activity report" for the week of Sept. 11, the NNSA uranium program manager (Tim Driscoll)  approved Critical Decision-1 for the Electrorefining Project, which sets alternatives and the cost range, and Critical Decision-3A, which sets the stage for long-lead procurements.
The NNSA's Production Office had previously approved a "safety validation report" for the Electrorefining Project that included the safety design strategy and the related safety documents.  Some of the design features and "administrative controls" associated with the project are to protect against an "inadvertent nuclear criticality."
According to the newly released safety board report, the Electrorefining Project will be housed in Building 9998, which is part of the 9215 complex.