Source: Defense News | Aaron Mehta  | November 3, 2018
Estimates for the cost of America's nuclear warheads have gone up in the last year, as the government prepares to develop and maintain as many as nine new systems in the next 25 years.
The National Nuclear Security Administration's fiscal 2019 Stockpile Stewardship and Management Plan, released Thursday lays out the investments that could be needed for the NNSA over the next two and a half decades.
The NNSA is a semiautonomous department within the Department of Energy. While the Defense Department manages the delivery systems of the nuclear force — ships, planes and missiles — NNSA oversees the development, maintenance and disposal of nuclear warheads.
However, NNSA costs are not just about the warheads, as requirements range from upgrading aging infrastructure, to increasing the production of plutonium pits, to securing facilities. The agency expects capital investments during this period could require spending between $61.1 billion and $90.7 billion, for example.
And the overall cost of replacing America's nuclear arsenal will be much higher when factoring in the development of new cruise missiles, intercontinental ballistic missiles and bomber aircraft.
The government watchdog warns that the agency has not taken steps to address the wide gaps in requested funding and the expected costs of several nuclear modernization programs.
Kingston Reif of the Arms Control Association said the report "highlights the enormous scope of work already on NNSA's overburdened plate, and the additional work that the Nuclear Posture Review proposes to pile on top."
He pointed to a chart in the report showing NNSA's budgetary estimate for the next 25 years has grown significantly in the year since the FY18 estimate — by about $75 billion over the previous estimate.
"NNSA claims that this increase 'is generally affordable and executable,' but that's wishful thinking," Reif said, noting previous concerns raised by the Government Accountability Office that NNSA could not meet its requirements with its planned budget.
The cost increase is partly driven by the Trump administration's Nuclear Posture Review. Released early this year, the NPR called for two new nuclear warhead designs as well as an overall recommitment to the nuclear triad.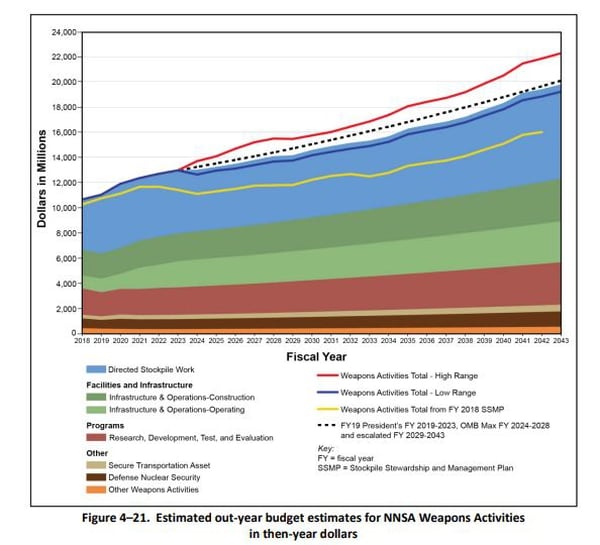 This chart shows estimated cost projections for NNSA's weapons activities over the next 25 years. The yellow line represents estimates from FY18's report; when tracked against the red and blue lines, representing the high and low ranges of cost estimates, cost growth is visible. (NNSA)
Here are the major warhead programs the agency is tracking as it assesses the nuclear stockpile for the next 25 years:
Completing that program is a major milestone, not just because of the capability it will provide, but because it is the first of the major life-extension programs NNSA has underway — something of a proof-of-concept for the agency going forward.