Avertium: Zero Trust-Fast Tracking Security in the New "Work Anywhere" Norm
July 30 @ 12:00 pm

-

1:00 pm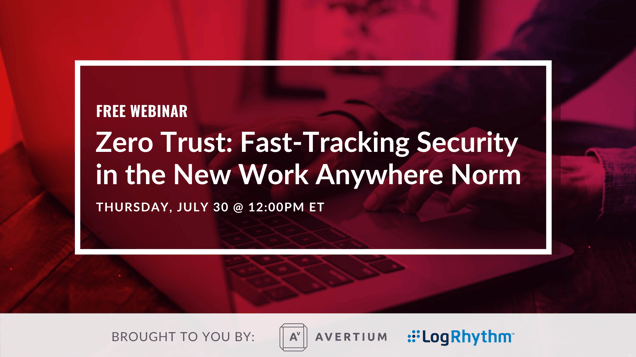 Current world events have redefined the physical work environment and the how and where employees are accessing critical data. Some companies will eventually revert to the traditional model, but with 56% of the non-self employed U.S. workforce able to work partially or fully from home, the majority of companies will most likely permanently move to a hybrid work-from-office and work-from-anywhere model. This adds an additional layer of complexity for cybersecurity professionals.
Join Avertium and LogRhythm for an interactive session on Zero Trust Networking fundamentals and their relationship to identity management and access controls. Experts from Avertium and LogRhythm will discuss the security implications of Work Anywhere, how ZTN can play an important role in risk management and lessons learned from real world deployments.
Register to gain insights on:
The business case for Zero Trust as part of a risk management strategy
The benefits and limitations of Zero Trust
Deployment best practices and tools
About Avertium
Avertium brings enterprise-level security to the many mid-sized and larger organizations that don't have access to comprehensive, specialized protection. One of the largest cybersecurity services providers to the mid-to-enterprise market, Avertium is forged out of three award-winning cybersecurity services companies, each with a unique perspective on the security landscape.
More than 1,200 organizations in industries ranging from financial services and manufacturing, to technology and healthcare have come to rely on Avertium's show-no-weakness approach to managed security, consulting and compliance services. The company's dual security operations centers are located in Arizona and Tennessee.